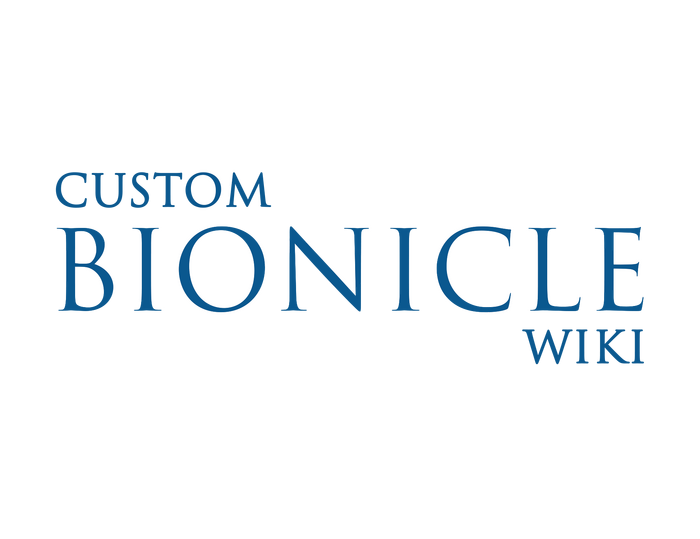 Custom BIONICLE Wiki: The encyclopedia for fanon BIONICLE info that anyone can edit!
We are currently editing over 25 articles, and you can help
Custom BIONICLE Wiki

"It was in those days I discovered our destinies are not written in stone. We have to find them for ourselves. I found mine. Now it's time for you to make new legends, for that is the way of the BIONICLE."

— 

Turaga Vakama

Custom BIONICLE Wiki, or CBW for short, is the single largest BIONICLE wiki in existence. Here, you and other fans of LEGO's BIONICLE line can make up your own MOC (My Own Creation) and display it in its own encyclopedia article! Anyone can put their custom BIONICLE creations and stories on this wiki, as long as it's not inappropriate or copyrighted.
If you're new here, we encourage you to make a free account. If you already have a username, go ahead and make an article with the box below, or edit an already-existing one. Above all else, have fun!

News

Where to start

---

Before making articles, we recommend that all new users read through our Manual of Style, the quintessential guidelines to article layouts on this wiki. The Manual explains the manner in which all articles should be made and how they should be structured. The wiki staff uphold the Manual of Style as the necessary format of all articles, so we advise that in order to prevent your articles from entering our improvement categories, you have a quick read through of the Manual.

Featured Article

Thode

Thode is a Toa of Plasma who is renowned as a freelance bounty hunter and assassin. Thode became a Toa approximately 79,100 years ago, at the hands of a wandering Toa of Magnetism named Jovan. Though details of this time remain largely unclear, it is also known that he was part of Toa Kualus and Gorta's original Toa Team. After leaving his native village, Thode situated himself on Stelt, and briefly protected the land before growing bored with the morals of the Toa Code. He then struck out and became an assassin, though not before developing his signature sniper rifle on Xia.

After an extensive career in the business, Thode was eventually recognised as one of the universe's elite assassins. Even during the Brotherhood of Makuta's invasion, Thode continued to survive and thrive, and was later recruited by the Order of Mata Nui when they emerged from secrecy to declare war on the Brotherhood. Upon catching wind of a new Toa Metru team forming in Metru Nui, he traveled to the island city and learned of team's new leader, Toa Tollubo, concluding to keep an eye on him. After being swept up in a disastrous political conspiracy prevented by the Xian Secret Service, Thode made his interest in Tollubo known. Though he revealed that it was in his interests for him to succeed in defeating the Cult of Darkness, he emphasised he had no desire to directly support him.

Six months later, Thode executed one of the Cult's agents, Vunto, after he attempted to assassinate him because of his involvement with the Toa Metru task force.

Social Media

In 2012, Custom BIONICLE took an initiative that resulted in the creation of a number of expansion sites outside of the Wikia domain. These were created to promote the wiki in the wider BIONICLE community, through sites such as YouTube and more. Be sure to check out, and join, our official Facebook, deviantART, and MOCpages groups. And don't forget to also follow our Tumblr, Twitter, and Google Plus pages! Feel free to submit your characters and stories to any of these sites and let the entire internet know of your creations!
Community content is available under
CC-BY-SA
unless otherwise noted.